Rockingham County, Virginia Records
Rockingham County, Virginia (Map It) was created in January 12, 1778 from Augusta County . Rockingham county was named for Charles Watson-Wentworth, 2nd Marquess of Rockingham, British Prime Minister .
Rockingham County is bordered by Pendleton County, West Virginia (west), Hardy County, West Virginia (north), Shenandoah County (northeast), Page County (east), Greene County (southeast), Albemarle County (southeast), Augusta County (southwest).
Rockingham County Cities and Towns include Bridgewater, Broadway, Clover Hill, Cootes' Store, Cross Keys, Dayton, Edom, Elkton, Grottoes, Harrisonburg, Keezletown, Lacey Spring, Linville, McGaheysville, Mt. Clinton, Mt. Crawford, Newhaven, Ottobine, Port Republic, River Bank, Rushville, Singers Glen, Sparta (Mauzy), Spring Creek, Stemphleytown, Timberville, Turleytown .
MapGeeks.org has is a collection of old Virginia maps.
Rockingham County, Virginia Courthouse Records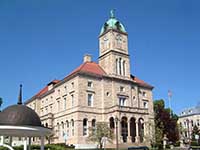 Rockingham County, VA Courthouse
The Rockingham County Courthouse is located in Harrisonburg, Virginia. The first building to function as a courthouse is thought to have been a log building on the Daniel Smith estate about two miles northeast of Harrisonburg. Daniel Smith was married to a daughter of Robert Harrison, and it is possible that the first courthouse had been built as a building for Harrison. The initial meeting at Smith's, near where "Smithland" still stands, took place April 27, 1778. The original log courthouse on the square was still used for several years, but in 1799 the court ordered that the old structure be sold at auction and removed from courthouse square.
Ten years later, in 1791, a second courthouse was built on Court Square. The first courthouse had apparently been damaged by fire because records indicate that it was "unfit for business." The justices decided to repair the damage and court was held temporarily in the home of Andrew Shanklin.
The second court building was located near the middle of the square but on the north side of Market Street "near the Maypole." It was a two-story structure, 26 by 32 feet, built of stone by Brewer Reeves, a tavern keeper in Harrisonburg. By January 1833, Jacob Rush, David Henton, John Kenney, and Peachy Harrison, commissioners, advertised the old courthouse for sale. It was scheduled to be sold to the highest bidder on regular Court Day, the third Monday in January. The buyer had to remove the structure by March 15th to have the square cleared for the contractors who would begin construction of a new courthouse.
The third courthouse was built 1833–1834 for about $4,000. In 1832 the second courthouse was so rundown that it was seen as unsafe. The court decided to replace it with a 40 by 50 foot "plain, neat, brick building."
By 1873 the third courthouse had become so dilapidated it was viewed as being unsafe. Judge James Kenney ordered that court proceedings should be temporarily moved to the Federal Court-house. This fourth courthouse, also of brick, cost $11,450.
By March 1896, slightly less than 20 years after its construction, the fourth courthouse was in need of replacement. The Clerk's Office was moved temporarily to the town council building on the west side of Court Square and other offices were moved to nearby buildings. Court sessions were held in the new Federal Courthouse that had been erected at the corner of North Main and Elizabeth streets.
The fifth and current courthouse building was built 1896–97 for $96,826.24. It underwent a major renovation costing $93,000 in 1931 and another update, including the addition of new windows and air-conditioning, in the 1990s.
The Clerk's Office DOES NOT DO RESEARCH . Most staff will assist people in finding the materials, but it is up to the individual to do the research.
The Rockingham County record dates below are from the earliest date to present time. They may include records of land, estates, taxes, vital records, divorces, naturalizations, voter registration, military discharges and court records.
Many pre-Civil War records were lost during the Valley Campaign of 1864. In an effort to safeguard the records, they were loaded onto a wagon that was subsequently set afire by Union troops. Records that were saved include: administrators, executors, and guardians bonds.
Rockingham County, Virginia Census Records
Rockingham County, Virginia Vital Records
Rockingham County, Virginia Resources
Rockingham County, Virginia External Links