Augusta County, Virginia Records
Augusta County, Virginia (Map It) was created in December 15, 1738 and was formed from Orange County. Augusta county was named for Augusta of Saxe-Gotha, the Princess of Wales.
Augusta County is bordered by Pendleton County, West Virginia (north), Rockingham County (northeast), Albemarle County (east), Nelson County (southeast), Rockbridge County (southwest), Bath County (west), Highland County (northwest).
Augusta County Cities and Towns include Craigsville, Grottoes (partial). The Independent City of Staunton and Independent City of Waynesboro (incorporated as such in 1902 and 1948 respectively) are located within the boundaries of Augusta County, but are not a part of the county .
MapGeeks.org has is a collection of old Virginia maps.
Augusta County, Virginia Courthouse Records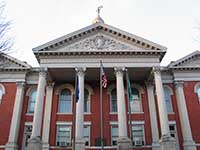 Augusta County, VA Courthouse
The Augusta County Courthouse is located in Staunton, Virginia.
The Clerk's Office DOES NOT DO RESEARCH . Most staff will assist people in finding the materials, but it is up to the individual to do the research.
The Augusta County record dates below are from the earliest date to present time. They may include records of land, estates, taxes, vital records, divorces, naturalizations, voter registration, military discharges and court records. Authorized in 1738, but the government was not formed until 1745. See Montgomery County for Earlier records
Augusta County, Virginia Census Records
Augusta County, Virginia Vital Records
Augusta County, Virginia Resources
William Thompson Genealogical and Historical Society , Glenn W. Thompson, Jr., P.O. Box 1391, Waynesboro, VA 22980-0933
Churchville Branch Library , 3714 Churchville Ave, Churchville, VA 24421; Phone 540-245-5287
Augusta County Central Library , Route 250 & Intersection 608, P.O. Box 600, Fishersville, VA 22939; (540) 885-3961
Waynesboro Public Library , 600 South Wayne Avenue, Waynesboro, VA 22980; (540) 942-6746
Augusta County, Virginia External Links