Orange County, Virginia Records
Orange County, Virginia (Map It) was created in September 20, 1734 from Spotsylvania County. Orange county was named for William III of England.
Orange County is bordered by Madison County (northwest), Culpeper County (north), Spotsylvania County (east), Louisa County (south), Albemarle County (southwest), Greene County (west).
Orange County Cities and Towns include Gordonsville and Orange .
MapGeeks.org has is a collection of old Virginia maps.
Orange County, Virginia Courthouse Records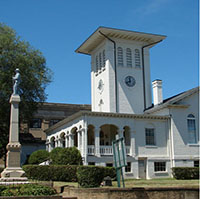 Orange County, VA Courthouse
The Orange County Courthouse is located in Orange, Virginia. became the county's judicial seat in the early 1750's, in 1872, it was incorporated as a town, in 1908 fire destroyed much of the town, many buildings from the 1800's still remain.
The Clerk's Office DOES NOT DO RESEARCH . Most staff will assist people in finding the materials, but it is up to the individual to do the research.
The Orange County record dates below are from the earliest date to present time. They may include records of land, estates, taxes, vital records, divorces, naturalizations, voter registration, military discharges and court records. The present courthouse was constructed in 1858.
Orange County, Virginia Census Records
Orange County, Virginia Vital Records
Orange County, Virginia Resources
Brawdus Martin Germanna Visitor Center and the Evelyn Chandler Martin Research Library , 2062 Germanna Highway, Locust Grove, VA 22508
Orange County, Virginia External Links