Spotsylvania County, Virginia Records
Spotsylvania County, Virginia (Map It) was created in December 17, 1720 from Essex County, King and Queen County and King William County. Spotsylvania county was named for Alexander Spotswood, colonial lieutenant governor of Virignia .
Spotsylvania County is bordered by Culpeper County (north), Stafford County (northeast), Caroline County (southeast), Hanover County (south), Louisa County (southwest), Orange County (west and northwest).
Spotsylvania County Cities and Towns include Alsop, Arcadia, Artillery Ridge, Bells Crossroad, Belmont, Blades Corner, Brockroad, Brokenburg, Carters Store, Chancellor, Chancellorsville, Chewnings Corner, Cookstown, Dunavant, Five Mile Fork, Four Mile Fork, Granite Springs, Lanes Corner, Leavells, Lewiston, Margo, Marye, Massaponax, McHenry, Old Trap, Olivers Corner, Partlow, Paytes, Post Oak, Shady Grove Corner, Snell, Spotsylvania Courthouse, Stubbs, Thornburg and Todds Tavern .
MapGeeks.org has is a collection of old Virginia maps.
Spotsylvania County, Virginia Courthouse Records
Spotsylvania County, VA Courthouse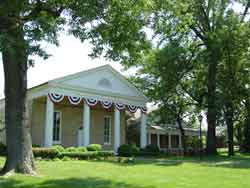 Old Spotsylvania County, VA Courthouse
The Spotsylvania County Courthouse is located in Spotsylvania, Virginia. The County was formed in 1720 with the county seat at Germanna in 1722. Later the county seat was moved to Fredericksburg, 1732, to the "Old Court House", 1778, and finlally to its present location. The building was completed in 1840. A new, larger building with a similar design was constructed using the original Doric columns abd a wing was added on the southwest corner in 1964 for government offices.
The Clerk's Office DOES NOT DO RESEARCH . Most staff will assist people in finding the materials, but it is up to the individual to do the research.
The Spotsylvania County record dates below are from the earliest date to present time. They may include records of land, estates, taxes, vital records, divorces, naturalizations, voter registration, military discharges and court records.
Spotsylvania County, Virginia Census Records
Spotsylvania County, Virginia Vital Records
Spotsylvania County, Virginia Resources
Spotsylvania Historical Association , P.O. Box 64, Spotsylvania, VA 22553, (703) 582-7167
Spotsylvania County, Virginia External Links