Caroline County, Virginia Records
Caroline County, Virginia (Map It) was created in March 15, 1727 from Essex County, King and Queen County and King William County. Additional parts of King and Queen County were added in 1742 and 1762. Caroline county was named for Caroline of Ansbach, wife of King George II of Great Britain.
Caroline County is bordered by Stafford County (north), King George County (north), Hanover County (south), King William County (east), King and Queen County (east), Essex County (east), and Spotsylvania County (west).
Caroline County Cities and Towns include Bowling Green and Port Royal.
MapGeeks.org has is a collection of old Virginia maps.
Caroline County, Virginia Courthouse Records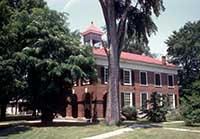 Caroline County, VA Courthouse
The Caroline County Courthouse is located in Bowling Green, Virginia.
The Clerk's Office DOES NOT DO RESEARCH . Most staff will assist people in finding the materials, but it is up to the individual to do the research.
The Caroline County record dates below are from the earliest date to present time. They may include records of land, estates, taxes, vital records, divorces, naturalizations, voter registration, military discharges and court records.
Most records prior to 1836 were destroyed during the Civil War. Some deeds and wills are recorded in extant Chancery Papers, and a considerable number of order books and loose papers survive.
Caroline County, Virginia Census Records
Caroline County, Virginia Vital Records
Caroline County, Virginia Resources
Caroline Historical Society , P.O. Box 324, Bowling Green, VA 22427, (804) 633-6101
Caroline County Genealogical Society , P.O. Box 9, Bowling Green, VA 22427
Caroline County, Virginia External Links