Suwannee County, Florida Records
Suwannee County, Florida (Map It) was created on December 21, 1858 from Columbia County. Suwannee County was named for the Suwannee River, a 266-mile long river in northern Florida.
Suwannee County is bordered by Hamilton County (north), Columbia County (east), Gilchrist County (southeast), Lafayette County (west), Madison County (northwest).
Suwannee County Cities and Towns include Live Oak, Branford.
A Map of Suwannee County, Florida contains detailed information about roads and boundaries, these maps may include rural communities, churches, and cemeteries.
Suwannee Co. Historical Events:
DeSoto passed through this section in 1539 and the Old Spanish Trail from St. Augustine crossed Suwannee County.
The county gets its name from the famed Suwannee River, which forms its western border.
Spanish road from St. Augustine to San Luis, opened through this section in 1685.
Suwannee County, Florida Courthouse Records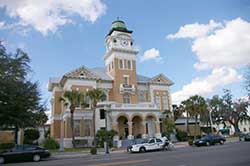 Suwannee County, FL Courthouse
The Suwannee County Courthouse is located in Live Oak, Florida. Learn More About State of Florida Court, Tax, Land and Probate Records.
The Clerk's Office DOES NOT DO RESEARCH. Most staff will assist people in finding the materials, but it is up to the individual to do the research.
The following indicates what vital, land, probate, and court records are in Suwannee county. The date listed for each record is usually the earliest registration filed. The date does not indicate that there are alot records for that year and does not mean that all such events were actually filed with the clerk.
Suwannee County Clerk of the Circuit Court / County Clerk has Marriage Records from 1859, Land Records from 1859, Probate Records from 1860 and Court Records from 1859. The County Clerk of the Circuit Court / County Clerk is custodian of all records of all predecessor courts, whether justice of the peace, city, county, probate, civil, or criminal.
Suwannee County Tax Collector collects all real estate taxes including postponed and delinquent, all county revenues in addition to the research and issue tax deed applications. Our department is the holder of tax records and assessed values.
Suwannee County Health Department has copies of Birth & Death certificates. Also has computer access from 1917 to present for birth records for the entire state as well as births that occurred in this county.
Suwannee County, Florida Census Records
Suwannee County, Florida Vital Records
Suwannee County, Florida Resources
Suwannee County, Florida External Links