Polk County, Florida Records
Polk County, Florida (Map It) was created on February 8, 1861 from Brevard County and Hillsborough County. Polk County was named for James K. Polk (1795–1849), the 11th President of the United States.
Polk County is bordered by Lake County (north), Orange County (northeast), Osceola County (east), Okeechobee County (southeast), Highlands County (southeast), Hardee County (south), Manatee County (southwest), Hillsborough County (west), Sumter County (northwest), Pasco County (northwest).
Polk County Cities and Towns include Auburndale, Bartow, Davenport, Eagle Lake, Fort Meade, Frostproof, Haines City, Lake Alfred, Lakeland, Lake Wales, Mulberry, Polk City, Winter Haven Dundee, Hillcrest Heights, Lake Hamilton. Villages Include Highland Park.
A Map of Polk County, Florida contains detailed information about roads and boundaries, these maps may include rural communities, churches, and cemeteries.
Polk Co. Historical Events:
The early Spanish explorers and missionaries left wild orange trees in numerous places.
The region was made part of the Seminole reservation and so there were no American settlers until after the Indian wars had ended.
Many veterans of these wars settled in Polk County. P
olk has become Florida's greatest citrus fruit producing county and a leading cattle raising county.
It is a delightful region of hills and lakes and possesses the highest point in the state, where Bok Tower is located.
It produces more pebble phosphate than any other county in the United States.
South Florida Military Institute founded by Gen. E. M. Law, September, 1894.
Polk County, Florida Courthouse Records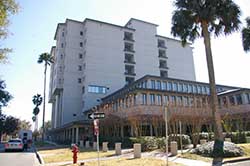 Polk County, FL Courthouse
Old Polk County Courthouse
The Polk County Courthouse is located in Bartow, Florida. Learn More About State of Florida Court, Tax, Land and Probate Records.
The Clerk's Office DOES NOT DO RESEARCH. Most staff will assist people in finding the materials, but it is up to the individual to do the research.
The following indicates what vital, land, probate, and court records are in Polk county. The date listed for each record is usually the earliest registration filed. The date does not indicate that there are alot records for that year and does not mean that all such events were actually filed with the clerk.
Polk County Clerk of the Circuit Court / County Clerk has Marriage Records from 1862, Land Records from 1862, Probate Records from 1861 and Court Records from 1867. The County Clerk of the Circuit Court / County Clerk is custodian of all records of all predecessor courts, whether justice of the peace, city, county, probate, civil, or criminal.
Polk County Tax Collector collects all real estate taxes including postponed and delinquent, all county revenues in addition to the research and issue tax deed applications. Our department is the holder of tax records and assessed values.
Polk County Health Department has copies of Birth & Death certificates. Also has computer access from 1917 to present for birth records for the entire state as well as births that occurred in this county.
Polk County, Florida Census Records
Polk County, Florida Vital Records
Polk County, Florida Resources
Northeast Polk County Historical Society, 801 Ledwith Ave., P. O. Box 1507, Haines City, FL 33845
Polk County, Florida External Links