Hillsborough County, Florida Records
Hillsborough County, Florida (Map It) was created on January 25, 1834 from Alachua County and unorganized territory. Hillsborough County was named for Wills Hill, 1st Marquess of Downshire (1718–1793), former Secretary of State of the American Colonies.
Hillsborough County is bordered by Pasco County (north), Polk County (east), Hardee County (southeast corner), Manatee County (south), Pinellas County (west).
Hillsborough County Cities and Towns include Plant City, Tampa, Temple Terrace.
A Map of Hillsborough County, Florida contains detailed information about roads and boundaries, these maps may include rural communities, churches, and cemeteries.
Hillsborough Co. Historical Events:
Robert Ambrister, who was executed in 1818, by order of General Andrew Jackson, visited this section probably to promote a Florida Indian protectorate under the British, in 1817.
Attempts to establish missions here met with murderous op-position from the Indians.
The Spanish named Tampa Bay "Espiritii Sants."
The Indian town of "Tampa" was the site of the present City of Tampa. The modern city was built around Fort Brooke, an army post to protect it against Seminole ravages.
Many famous Indian chiefs embarked here on their final exile from Florida.
Tampa was captured by Union forces in 1864, but there was little fighting in this section.
This was the point of embarkation for American troops, Cuba-bound during the Spanish-American War. Hillsborough is the leading strawberry growing county of the State.
John Mercer Brooke,, inventor, the man who superintended the plating of the world's first successful fighting ironclad, the Virginia, was born at Fort Brooke, December 18, 1826.
Hillsborough County, Florida Courthouse Records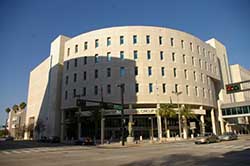 Hillsborough County, FL Courthouse
Old Hillsborough County Courthouse
The Hillsborough County Courthouse is located in Tampa, Florida. Courthouse, a small log cabin, was burned by Indians during the Second Seminole War. Learn More About State of Florida Court, Tax, Land and Probate Records.
The Clerk's Office DOES NOT DO RESEARCH. Most staff will assist people in finding the materials, but it is up to the individual to do the research.
The following indicates what vital, land, probate, and court records are in Hillsborough county. The date listed for each record is usually the earliest registration filed. The date does not indicate that there are alot records for that year and does not mean that all such events were actually filed with the clerk.
Hillsborough County Clerk of the Circuit Court / County Clerk has Marriage Records from 1846, Land Records from 1837, Probate Records from 1845 and Court Records from 1846. The County Clerk of the Circuit Court / County Clerk is custodian of all records of all predecessor courts, whether justice of the peace, city, county, probate, civil, or criminal.
Hillsborough County Tax Collector collects all real estate taxes including postponed and delinquent, all county revenues in addition to the research and issue tax deed applications. Our department is the holder of tax records and assessed values.
Hillsborough County Health Department has copies of Birth & Death certificates. Also has computer access from 1917 to present for birth records for the entire state as well as births that occurred in this county.
Hillsborough County, Florida Census Records
Hillsborough County, Florida Vital Records
Hillsborough County, Florida Resources
Hillsborough County Historical Commission, Museum, History and Genealogy Library, County Courthouse, Tampa, FL 33602
Hillsborough County, Florida External Links