Monroe County, Florida Records
Monroe County, Florida (Map It) was created on July 3, 1823 from Saint Johns County. Monroe County was named for James Monroe (1758–1831), fifth President of the United States.
Monroe County is bordered by Collier County (north), Miami-Dade County (northeast).
Monroe County Cities and Towns include Key West, Marathon, Key Colony Beach, Layton, Islamorada.
A Map of Monroe County, Florida contains detailed information about roads and boundaries, these maps may include rural communities, churches, and cemeteries.
Monroe Co. Historical Events:
Key West, the county seat, was a thriving port and the largest city in Florida before the Civil War.
Fort Jefferson, on the Dry Tortugas, was the place of imprisonment of Dr. Mudd who had set the broken leg of John Wilkes Booth after the latter had assassinated Abraham Lincoln.
Key West became a naval base in 1822 and was of great importance during the Civil War, the Spanish American War, first World War and again in the second World War.
It is a most interesting city with its ancient houses-, its "Turtle crawls" and its tropical vegetation.
It is reached by buses, Trucks: and passenger cars over a highway running from Florida's mainland over a series of long and narrow keys connected by bridges, the center of one bridge being out of sight of land.
John W. Simonton purchased island of Key West from Don Juan de Estrada, original grantee, December 21, 1821.
Florida's first democratic primary held in Monroe County 1876.
Monroe County, Florida Courthouse Records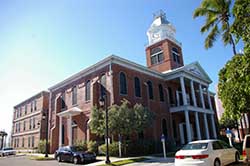 Monroe County, FL Courthouse
The Monroe County Courthouse is located in Key West, Florida. Learn More About State of Florida Court, Tax, Land and Probate Records.
The Clerk's Office DOES NOT DO RESEARCH. Most staff will assist people in finding the materials, but it is up to the individual to do the research.
The following indicates what vital, land, probate, and court records are in Monroe county. The date listed for each record is usually the earliest registration filed. The date does not indicate that there are alot records for that year and does not mean that all such events were actually filed with the clerk.
Monroe County Clerk of the Circuit Court / County Clerk has Marriage Records from 1826, Land Records from 1826, Probate Records from 1888 and Court Records from ?. The County Clerk of the Circuit Court / County Clerk is custodian of all records of all predecessor courts, whether justice of the peace, city, county, probate, civil, or criminal.
Monroe County Tax Collector collects all real estate taxes including postponed and delinquent, all county revenues in addition to the research and issue tax deed applications. Our department is the holder of tax records and assessed values.
Monroe County Health Department has copies of Birth & Death certificates. Also has computer access from 1917 to present for birth records for the entire state as well as births that occurred in this county.
Monroe County, Florida Census Records
Monroe County, Florida Vital Records
Monroe County, Florida Resources
Monroe County Genealogical Society, 21 Ventana Lane, Big Coppitt Key, FL 33040
Monroe County, Florida External Links