St. Johns County, Florida Records
St. Johns County, Florida (Map It) was created on July 21, 1821 as an original county . This county was name derived from the St. Johns River, which in turn derives its name from San Juan del Puerto.
St. Johns County is bordered by Duval County (north), Flagler County (south), Putnam County (southwest), Clay County (west).
St. Johns County Cities and Towns include Hastings, Marineland, St. Augustine, St. Augustine Beach.
A Map of St. Johns County, Florida contains detailed information about roads and boundaries, these maps may include rural communities, churches, and cemeteries.
St. Johns Co. Historical Events:
St. Augustine was the first permanent white settlement in what is now the United States, being established by Spanish under Menendez in 1565.
Ponce de Leon had landed near here in 1513. Early Spanish buildings and fortifications are preserved, including ancient Fort San Marcos and the original city gates.
The city was captured by Sir Francis Drake in 1586 and later by John Davis.
It was besieged by Governor Oglethorpe of Georgia and Governor Moore of South Carolina.
The ancient fort held as prisoners signers of the American Declaration of Independence and, later, famous Indian Chiefs of Seminole War days and Arizona Indian Wars.
The Confederate flag was the fourth (following Spanish, British and American) to fly over this region, not counting the French in the northern part and the banner of the Republic of Florida.
In 1862 the Union forces reoccupied the county and the American flag has flown ever since. St. Johns is Florida's chief Irish potato producing county.
Thousands of tourists visit here annually to see the old Spanish and beautiful but more modern buildings of the ancient city.
In 1838 Coacoochee, otherwise known as Wild Cat, made his famous escape from Fort Marion.
St. Johns County, Florida Courthouse Records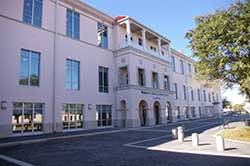 St. Johns County, FL Courthouse
The St. Johns County Courthouse is located in Saint Augustine, Florida. Learn More About State of Florida Court, Tax, Land and Probate Records.
The Clerk's Office DOES NOT DO RESEARCH. Most staff will assist people in finding the materials, but it is up to the individual to do the research.
The following indicates what vital, land, probate, and court records are in St. Johns county. The date listed for each record is usually the earliest registration filed. The date does not indicate that there are alot records for that year and does not mean that all such events were actually filed with the clerk.
St. Johns County Clerk of the Circuit Court / County Clerk has Marriage Records from 1823, Land Records from 1821, Probate Records from 1844 and Court Records from 1821. The County Clerk of the Circuit Court / County Clerk is custodian of all records of all predecessor courts, whether justice of the peace, city, county, probate, civil, or criminal.
St. Johns County Tax Collector collects all real estate taxes including postponed and delinquent, all county revenues in addition to the research and issue tax deed applications. Our department is the holder of tax records and assessed values.
St. Johns County Health Department has copies of Birth & Death certificates. Also has computer access from 1917 to present for birth records for the entire state as well as births that occurred in this county.
St. Johns County, Florida Census Records
St. Johns County, Florida Vital Records
St. Johns County, Florida Resources
St. Johns County, Florida External Links