Kent County, Delaware Records
Kent County, Delaware (Map It) was created on June 21, 1680 from Whorekill (Hoarkill) County and New Castle County. Kent County was originally named St. Jones County but renamed in 1682.
Kent County is bordered by New Castle County, Delaware (north), Salem County, New Jersey (northeast), Cumberland County, New Jersey (east), Cape May County, New Jersey (east), Sussex County, Delaware (south), Caroline County, Maryland (southwest), Queen Anne's County, Maryland (west), Kent County, Maryland (west).
Kent County Cities and Towns include Dover, Harrington, Milford, Bowers, Camden, Cheswold, Clayton, Farmington, Felton, Frederica, Hartly, Houston, Kenton, Leipsic, Little Creek, Magnolia, Smyrna, Viola, Woodside, Wyoming. A Map of Kent County, Delaware contains detailed information about roads and boundaries, these maps may include rural communities, churches, and cemeteries.
Kent County Hundreds include Duck Creek, East Dover, Kenton, Little Creek, Milford, Mispillion, North Murderkill, South Murderkill, West Dover.
MapGeeks.org has is a collection of old Delaware maps.
Kent County, Delaware Courthouse Records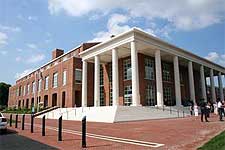 Kent County, DE Courthouse

The Kent County Courthouse is located in Dover, Delaware. Records of land conveyance are found in the county recorder of deeds' offices. Estates are in the office of the register of wills where files are maintained from 1925. The prothonotary is the clerk with custody of such records as divorces (to 1975), and civil and criminal court matters. Learn More About State of Delaware Court, Tax, Land and Probate Records.
The Clerk's Office DOES NOT DO RESEARCH. Most staff will assist people in finding the materials, but it is up to the individual to do the research.
The Kent County record dates below are from the earliest date to present time. Most earlier records and many into the twentieth century have been transferred to the Delaware State Archives, although some counties have microfilms of transferred material.
Kent County, Delaware Census Records
Learn More: State of Delaware Census Records
U.S. Federal Population Schedules: 1790 (fragmented), 1800, 1810, 1820, 1830, 1840, 1850, 1860, 1870, 1880 (free index), 1890 (fragmented), 1900, 1910, 1920, 1930, 1940
U.S. Census Reconstructed Records: 1660-1820
State Population Schedules: None
U.S. Federal Census Mortality Schedules: 1850, 1860, 1870 and 1880
Selected U.S. Federal Census Agriculture Schedules: 1850, 1860, 1870 and 1880
Selected U.S. Federal Census Industry Schedules: 1850, 1860, 1870 and 1880
Union Veterans Schedules: 1890
Kent County, Delaware Vital Records
Kent County, Delaware Resources
Kent County, Delaware External Links