Washington County, Virginia Records
Washington County, Virginia (Map It) was created in December 07, 1776 from Fincastle County. Part of Montgomery County was added in 1777. Washington county was named for George Washington, Revolutionary War commander, U.S. Founding Father, and future U.S. President .
Washington County is bordered by Smyth County (northeast), Grayson County (east-southeast), Johnson County, Tennessee (south/southeast), Sullivan County, Tennessee (southwest), Scott County (west), Russell County (northwest).
Washington County Cities and Towns include Abingdon, Damascus, Emory-Meadow View and Glade Spring .
MapGeeks.org has is a collection of old Virginia maps.
Washington County, Virginia Courthouse Records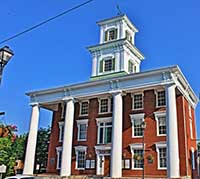 Washington County, VA Courthouse
The Washington County Courthouse is located in Abingdon, Virginia. Washington County courthouse in Abingdon boast being the only new courthouse in Virginia built during reconstruction. It was completed in 1868. The previous courthouse was burned by Union soldiers in December 1864. Three earlier courthouses stood on this site. The first was constructed about 1800. The second was built in 1850 and burned during the war. The present Washington County courthouse was completed in 1868. It features four great Doric columns and a colaide to cornice and tower.
The Clerk's Office DOES NOT DO RESEARCH . Most staff will assist people in finding the materials, but it is up to the individual to do the research.
The Washington County record dates below are from the earliest date to present time. They may include records of land, estates, taxes, vital records, divorces, naturalizations, voter registration, military discharges and court records.
A minute book for the period 1787-1819 was lost as well as many loose papers in a fire in the clerk's office on 15 December 1864.
Washington County, Virginia Census Records
Washington County, Virginia Vital Records
Washington County, Virginia Resources
Holston Territory Genealogical Society , P.O. Box 433, Bristol, VA 24203-0433
Washington County Public Library , Oak Hill and Valley Streets, Abingdon, VA 24210, (540) 676-6222
Bristol Public Library , 701 Goode Street, Bristol, VA 24201, (540) 669-9444
Washington County, Virginia External Links