Wakulla County, Florida Records
Wakulla County, Florida (Map It) was created on March 11, 1843 from Leon County. Wakulla County was named for the Wakulla River, itself named for a Spanish corruption of a Timucuan word used to describe the body of water, but that is of uncertain meaning.
Wakulla County is bordered by Franklin County (southwest), Jefferson County (northeast), Liberty County (west), Leon County (north).
Wakulla County Cities and Towns include Sopchoppy, St. Marks.
A Map of Wakulla County, Florida contains detailed information about roads and boundaries, these maps may include rural communities, churches, and cemeteries.
Wakulla Co. Historical Events:
Ponce de Leon attempted a settlement here in 1521 and was mortally, wounded by an Indian arrow.
Narvaez built rude ships here in which his followers fled from Florida in 1528.
In 1678 a fort was constructed at St. Marks to. guard shipping intended for St. Augustine. Spanish missions had been established earlier in the seventeenth century.
St. Marks was captured in 1818 by Andrew Jackson's army when he invaded Florida to punish Indians for raids into Georgia. He executed two British agents at this Spanish fort on a charge of inciting Indians to raid U. S. territory.
St. Marks became a great cotton shipping port before the Civil War and later Newport also became a noted port.
The trade of both places fell to nothing after railroads were built connecting with the North.
Wakulla Springs, one of Florida's greatest natural wonders, is the source of the Wakulla River.
Wakulla County, Florida Courthouse Records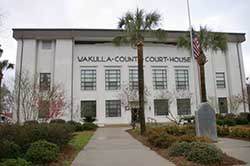 Wakulla County, FL Courthouse
Old Wakulla County Courthouse
The Wakulla County Courthouse is located in Crawfordville, Florida. Record Loss (Marriage & Probate). Learn More About State of Florida Court, Tax, Land and Probate Records.
The Clerk's Office DOES NOT DO RESEARCH. Most staff will assist people in finding the materials, but it is up to the individual to do the research.
The following indicates what vital, land, probate, and court records are in Wakulla county. The date listed for each record is usually the earliest registration filed. The date does not indicate that there are alot records for that year and does not mean that all such events were actually filed with the clerk.
Wakulla County Clerk of the Circuit Court / County Clerk has Marriage Records from 1892, Land Records from 1843, Probate Records from 1892 and Court Records from 1843. The County Clerk of the Circuit Court / County Clerk is custodian of all records of all predecessor courts, whether justice of the peace, city, county, probate, civil, or criminal.
Wakulla County Tax Collector collects all real estate taxes including postponed and delinquent, all county revenues in addition to the research and issue tax deed applications. Our department is the holder of tax records and assessed values.
Wakulla County Health Department has copies of Birth & Death certificates. Also has computer access from 1917 to present for birth records for the entire state as well as births that occurred in this county.
Wakulla County, Florida Census Records
Wakulla County, Florida Vital Records
Wakulla County, Florida Resources
Wakulla County, Florida External Links