Franklin County, Florida Records
Franklin County, Florida (Map It) was created on February 8, 1832 from Gadsden County and Washington County. Franklin County was named for Benjamin Franklin (1706–1790), one of the Founding Fathers of the United States of America.
Franklin County is bordered by Liberty County (north), Wakulla County (northeast), Gulf County (west).
Franklin County Cities and Towns include Carrabelle.
A Map of Franklin County, Florida contains detailed information about roads and boundaries, these maps may include rural communities, churches, and cemeteries.
Franklin Co. Historical Events:
Was an early refuge for escaped slaves and was the scene of pirate raids.
Renegade British organized negroes and Indians to fight the Americans and built a strong fort for them on the Apalachicola River.
Edward Nichols, a British Lieutenant built a fort for the Seminole Indians seventeen miles above mouth of Apalachicola River, and placed therein $250,000 worth of ammunition late in 1814. Runaway slaves afterward occupied this fort, which was destroyed by American forces July 27, 1816.
After the American occupation, much traffic in cotton and other agricultural products moved down the river and was shipped abroad from Apalachicola.
Dr. John Gorrie, of this city, invented the manufacture of ice here in 1851. He is known as the "father of modern refrigeration."
The city was held by Union forces during most of the Civil War and later became an even more important shipping point for oysters, lumber and naval stores.
Franklin County, Florida Courthouse Records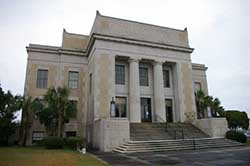 Franklin County, FL Courthouse
The Franklin County Courthouse is located in Apalachicola, Florida. Courthouse destroyed by fire in 1887 and many records were damaged. Learn More About State of Florida Court, Tax, Land and Probate Records.
The Clerk's Office DOES NOT DO RESEARCH. Most staff will assist people in finding the materials, but it is up to the individual to do the research.
The following indicates what vital, land, probate, and court records are in Franklin county. The date listed for each record is usually the earliest registration filed. The date does not indicate that there are alot records for that year and does not mean that all such events were actually filed with the clerk.
Franklin County Clerk of the Circuit Court / County Clerk has Marriage Records from 1887, Land Records from 1874, Probate Records from 1832 and Court Records from ?. The County Clerk of the Circuit Court / County Clerk is custodian of all records of all predecessor courts, whether justice of the peace, city, county, probate, civil, or criminal.
Franklin County Tax Collector collects all real estate taxes including postponed and delinquent, all county revenues in addition to the research and issue tax deed applications. Our department is the holder of tax records and assessed values.
Franklin County Health Department has copies of Birth & Death certificates. Also has computer access from 1917 to present for birth records for the entire state as well as births that occurred in this county.
Franklin County, Florida Census Records
Franklin County, Florida Vital Records
Franklin County, Florida Resources
Franklin County, Florida External Links