Ventura County, California Records
Ventura County, California (Map It) was created on March 22, 1872 from Santa Barbara County . Ventura County was named for the Mission San Buenaventura (was founded in 1782 now known as Ventura). Buenaventura is composed of two Spanish words, buena meaning "good" and ventura meaning "fortune."
Ventura County is bordered by Santa Barbara County (west), Kern County (north), Los Angeles County (east) .
Ventura County Cities and Towns include Camarillo, Fillmore, Moorpark, Ojai, Oxnard, Port Hueneme, Santa Paula, Simi Valley, Thousand Oaks, Ventura .
Since its creation Ventura County boundries have changed to include these:
Ventura County, California Courthouse Records
Ventura County, CA Courthouse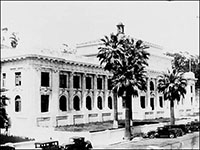 Old Ventura County Courthouse
The Ventura County Courthouse is located in Ventura, California. Land was later added from Los Angeles County in 1881. Learn More About State of California Court, Tax, Land and Probate Records.
Courthouse History - The second of Ventura County's courthouses was turned over to the City of San Buenaventura for use as its city hall after construction of a new county center in 1978. This ornate building, which features a series of gargoyle-like monks' faces along the façade and is listed on the National Register of Historic Places, is dramatically situated on a hill with full views of the city and the Channel Islands. One of the most celebrated defense attorneys who practiced at the courthouse was Erle Stanley Gardner, the creator of the Perry Mason mystery series, who worked here in the 1920s and 1930s.
The Clerk's Office DOES NOT DO RESEARCH. Most staff will assist people in finding the materials, but it is up to the individual to do the research. Some early court records from the various courts may have been sent to the California State Archives. Besides court minutes and judgements, these records include tax lists, wills, deeds, estate inventories, and marriage bonds. The California State Archives has microfilm of selected county records, 1850–1919.
The following dates indicates what vital, land, probate, and court records are in Ventura county. The date listed for each record is usually the earliest registration filed. The date does not indicate that there are alot records for that year and does not mean that all such events were actually filed with the clerk. Some counties encompass land settled in the eighteenth century; their records pre-date county formation. Land transactions and vital records recorded in the county are at the county recorder's office. The county clerk general has probate books and files from the county's superior court, civil court records, and naturalizations. Divorces may be in either place, depending on how filed.
Ventura County, California Census Records
Ventura County, California Vital Records
Ventura County, California Resources
Ventura County Historical Society, 100 East Main Street, Ventura 93001-2698; (805) 653-0323
Ventura County, California External Links