Tehama County, California Records
Tehama County, California (Map It) was created on April 9, 1856 from Colusa County, Shasta County and Butte County . Tehama County was named for the City of Tehama. Suggested possible roots are the Arabic word tehama ("hot low-lands"), the Mexican word tejamanil (shingle), or "high water" in the dialect of local Indians
Tehama County is bordered by Butte County (south), Glenn County (south), Mendocino County (southwest), Trinity County (west), Shasta County (north), Plumas County (east) .
Tehama County Cities and Towns include  Bend, Capay, Corning, Cottonwood, Flournoy, Gerber-Las Flores, Kirkwood, Lake California, Los Molinos, Manton, Mill Creek, Mineral, Paskenta, Paynes Creek, Proberta, Rancho Tehama Reserve, Red Bluff, Richfield, Tehama, Vina .
Since its creation Tehama County boundries have changed to include these:
Tehama County, California Courthouse Records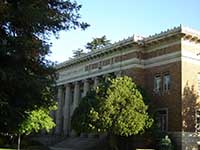 Tehama County, CA Courthouse
Old Tehama County Courthouse
The Tehama County Courthouse is located in Red Bluff, California. Land later added from Shasta (1857) and Butte (1857). Learn More About State of California Court, Tax, Land and Probate Records.
Courthouse History - Tehama's first courthouse in Red Bluff was a popular meeting place for unions, political parties, baseball teams, and other community groups. On Sundays it was also a popular place of worship after the sheriff struck a compromise and allowed use of the court by Baptists in the morning, Presbyterians in the afternoon, and Methodists in the evening. The tower was added to the building in 1880, one of many improvements to the building and the grounds. The building was demolished in 1920 to make room for a new facility.
The Clerk's Office DOES NOT DO RESEARCH. Most staff will assist people in finding the materials, but it is up to the individual to do the research. Some early court records from the various courts may have been sent to the California State Archives. Besides court minutes and judgements, these records include tax lists, wills, deeds, estate inventories, and marriage bonds. The California State Archives has microfilm of selected county records, 1850–1919.
The following dates indicates what vital, land, probate, and court records are in Tehama county. The date listed for each record is usually the earliest registration filed. The date does not indicate that there are alot records for that year and does not mean that all such events were actually filed with the clerk. Some counties encompass land settled in the eighteenth century; their records pre-date county formation. Land transactions and vital records recorded in the county are at the county recorder's office. The county clerk general has probate books and files from the county's superior court, civil court records, and naturalizations. Divorces may be in either place, depending on how filed.
Tehama County, California Census Records
Tehama County, California Vital Records
Tehama County, California Resources
Tehama County, California External Links