Sauk County, Wisconsin Records
Sauk County, Wisconsin (Map It) was created on January 11, 1840 from Crawford County, Dane County and Portage County. The county was named for the Sauk nation of Native Americans.
Sauk County is bordered by Juneau County (north), Adams County (northeast), Columbia County (east), Dane County (southeast), Iowa County (south), Richland County (west), Vernon County (northwest).
Sauk County Cities, Towns and Villiages include Baraboo, Reedsburg, Wisconsin Dells, Baraboo, Bear Creek, Dellona, Delton, Excelsior, Fairfield, Franklin, Freedom, Greenfield, Honey Creek, Ironton, La Valle, Merrimac, Prairie du Sac, Reedsburg, Spring Green, Sumpter, Troy, Washington, Westfield, Winfield, Woodland, Cazenovia, Ironton, La Valle, Lake Delton, Lime Ridge, Loganville, Merrimac, North Freedom, Plain, Prairie du Sac, Rock Springs, Sauk City, Spring Green, West Baraboo.
A Map of Sauk County, Wisconsin contains detailed information about roads and boundaries, these maps may include rural communities, churches, and cemeteries.
Sauk County, Wisconsin Courthouse Records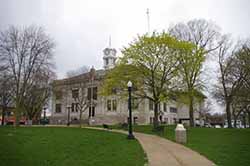 Sauk County, WI Courthouse

The Sauk County Courthouse is located in Baraboo, Wisconsin. Learn More About State of Wisconsin Court, Tax, Land and Probate Records.
The Clerk's Office DOES NOT DO RESEARCH. Most staff will assist people in finding the materials, but it is up to the individual to do the research.
It has been estimated that less than 50 percent of the vital records, for example, were prepared and submitted for permanent filing prior to 1907. Land deeds, probate, and court records generally begin in Wisconsin with the organization of the county. Prior to that date, check the County or Counties it was created from. Some counties formed from other counties transcribed their portion of property deeds to be kept with the new county deed records. Sauk County was attached to Dane County for county and judicial purposes from 1840–44. Some early records may be found there.
The following dates indicates what vital, land, probate, and court records are in Sauk county. The date listed for each record is usually the earliest registration filed. The date does not indicate that there are alot records for that year and does not mean that all such events were actually filed with the clerk.
Sauk County, Wisconsin Census Records
Sauk County, Wisconsin Vital Records
Learn More: State of Wisconsin Vital Records
Birth, Marriage,Divorce and Death Records: from October 1, 1907. State Office has scattered records earlier than 1857 and records before 1907, are very incomplete.
Vital Records Online: USAVital or Social Security Death Index
Vital Records by Mail:  Birth Certificate, Marriage Certificate, Divorce Certificate, Death Certificate Applications.
In Person:  Wisconsin Vital Records Office, 1 West Wilson Street, Room 160, Madison, WI 53703
Sauk County, Wisconsin Resources
Sauk County, Wisconsin External Links