James City County, Virginia Records
James City County, Virginia (Map It) was created in 1617 as one of the original eight shires. Part of New Kent County was added later. Part of York County was added in 1852. James City county was named for King James I of England.
James City County is bordered by  New Kent County (northwest), King and Queen County (northeast), Gloucester County (northeast), York County (east), Surry County (south), Charles City County (west) .
James City County Cities and Towns include Croaker, Diascund, Five Forks, Grove, Indigo Park, Jamestown, Kingspoint, Kingsmill, Lightfoot, Norge and Toano .
MapGeeks.org has is a collection of old Virginia maps.
James City County, Virginia Courthouse Records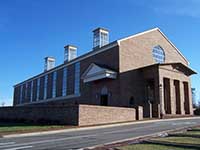 James City County, VA Courthouse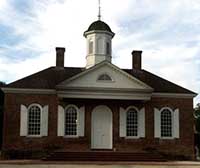 Old James City County, VA Courthouse
The James City County Courthouse is located in Williamsburg, Virginia. The current courthouse was built in 1999. The original, as seen in Colonial Williamsburg, was built in 1770. It is Early Georgian with a cupola and pedimented façade, shutters. The interior has been reconstructed to look as the original. James City County was one of the original shires. It straddled the James River until 1646. The court was in Jamestown and did not move to Williamsburg until 1715. The courthouse house serves both James City County and Williamsburg. During the Peninsula campaign of the Civil War Union troops occupied Williamsburg from 1682. Like Hanover and other counties the records were sent to Richmond for safe keeping. They were destroyed in the fire of 1865.
The Clerk's Office DOES NOT DO RESEARCH . Most staff will assist people in finding the materials, but it is up to the individual to do the research.
The James City County record dates below are from the earliest date to present time. They may include records of land, estates, taxes, vital records, divorces, naturalizations, voter registration, military discharges and court records.
All county court records were lost in 1865, Tax Records (1768-69) were saved.
James City County, Virginia Census Records
James City County, Virginia Vital Records
James City County, Virginia Resources
James City County, Virginia External Links