Silver Bow County, Montana Records
Silver Bow County, Montana (Map It) was created on February 16, 1881 from Deer Lodge County. The county was named for Silver Bow Creek; there are multiple theories explaining how the creek got its name.
Silver Bow County is bordered by Deer Lodge County (east), Jefferson County (east), Madison County (south), Beaverhead County (southwest).
Silver Bow County Cities and Towns include Butte, Walkerville.
A Map of Silver Bow County, Montana contains detailed information about roads and boundaries, these maps may include rural communities, churches, and cemeteries.
Silver Bow County, Montana Courthouse Records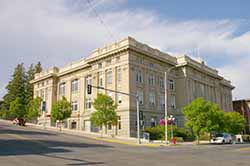 Silver Bow County, MT Courthouse
The Silver Bow County Courthouse is located in Butte, Montana. Learn More About State of Montana Court, Tax, Land and Probate Records.
The Clerk's Office DOES NOT DO RESEARCH. Most staff will assist people in finding the materials, but it is up to the individual to do the research.
The following dates indicates what vital, land, probate, and court records are in Silver Bow county. The date listed for each record is usually the earliest registration filed. The date does not indicate that there are alot records for that year and does not mean that all such events were actually filed with the clerk.
Land was again added from Deer Lodge in 1917.
Silver Bow County Clerk and Recorder has Birth / Death Records from 1878 / 1890 and Land Records from 1881. The County Clerk and Recorder responsibilities include but are not limited to, recording and maintaining the majority of all the legal documents relating to real estate records, land descriptions, plats and surveys, county birth and death records and the records of the Board of County commissioners.
Silver Bow County Clerk of District Court has Marriage / Divorce Records from 1881, Probate Records from 1881  and Court Records from 1881 . The County Clerk of District Court is responsible for all District Court records. These records include Adoption, Civil, Criminal, Dependent Neglect, Domestic Relations, Guardianship, Juvenile, Paternity, Probate and Sanity cases. The clerk also issues, files and records all Madison County Marriage license applications and license.
Silver Bow County, Montana Census Records
Learn More: State of Montana Census Records
U.S. Indian Census Records: 1885-1940
State Population Schedules: None
U.S. Federal Census Mortality Schedules: None
Selected U.S. Federal Census Agriculture Schedules: None
Selected U.S. Federal Census Industry Schedules: None
Union Veterans Schedules: 1890
Silver Bow County, Montana Vital Records
Silver Bow County, Montana Resources
Silver Bow County, Montana External Links