Thayer County, Nebraska Records
Thayer County, Nebraska (Map It) was created on January 26, 1856 from Jefferson County. The county was named in honor of John Milton Thayer, the seventh governor of Nebraska.
Thayer County is bordered by Jefferson County  (east), Washington County, Kansas  (southeast), Republic County, Kansas  (south), Nuckolls County  (west), Fillmore County  (north).
Thayer County Cities and Towns include Alexandria, Belvidere, Bruning, Byron, Carleton, Chester, Davenport, Deshler, Gilead, Hebron, Hubbell.
A Map of Thayer County, Nebraska contains detailed information about roads and boundaries, these maps may include rural communities, churches, and cemeteries.
Thayer County, Nebraska Courthouse Records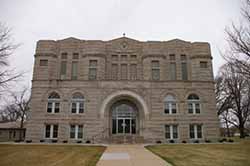 Thayer County, NE Courthouse
The Thayer County Courthouse is located in Hebron, Nebraska. Learn More About State of Nebraska Court, Tax, Land and Probate Records.
The Clerk's Office DOES NOT DO RESEARCH. Most staff will assist people in finding the materials, but it is up to the individual to do the research.
The following dates indicates what vital, land, probate, and court records are in Thayer county. The date listed for each record is usually the earliest registration filed. The date does not indicate that there are alot records for that year and does not mean that all such events were actually filed with the clerk.
Thayer County Clerk has Marriage Records from 1871. The County Clerk is responsible for Marriage Licenses and can also be expected to hold delayed birth registrations. Other records of interest to the researcher include military discharges, voter registrations, estray notices, marks and brands, physician's registers, farm and ranch names, and school registers.
Thayer County Register of Deeds has Land Records from 1871. The County Register of Deeds is responsible for maintaining and securing the land records of the county. The duties include preserving of old land records and maintaining records that have been recorded which include, warranty deeds, mortgages, deeds of trust, plats and any other documents that affect a specific piece of land in the county.
Thayer Clerk of Courts has Probate Records from 1871 and Court Records from 1870. The Clerk of Courts duties include misdemeanor cases, including preliminary hearing in felony cases, civil cases involving less than $45,000, small claims involving less than 1870,400, probate, guardianship, conservatorship, adoption, and eminent domain and function as juvenile courts.
Thayer County, Nebraska Census Records
Thayer County, Nebraska Vital Records
Learn More: State of Nebraska Vital Records
Birth & Death Records: from late 1904 to present
Marriage & Divorce Records: from January 1909 to present
Locations: Nebraska Office of Vital Statistics
Vital Records Online: USAVital or Social Security Death Index
Vital Records by Mail: Birth Certificate, Death Certificate, Marriage Certificate, Divorce Certificate Applications.
In Person: Nebraska Health & Human Services System, Vital Records, 1033 "O" Street, Suite 130, Lincoln, Nebraska, Gold's Galleria, 1st floor (11th & N Streets); PH (402) 471-2871
Thayer County, Nebraska Resources
Thayer County, Nebraska External Links