Richmond County, Virginia Records
Richmond County, Virginia (Map It) was created in April 26, 1692 from Old Rappahannock County . Richmond county was named for Charles Lennox, 1st Duke of Richmond, illegitimate son of King Charles II .
Richmond County is bordered by Westmoreland County (north), Northumberland County (east), Lancaster County (southeast), Essex County (southwest).
Richmond County Cities and Towns include Warsaw, Farnham, Foneswood, Haynesville, Lyells, Sharps and Village .
MapGeeks.org has is a collection of old Virginia maps.
Richmond County, Virginia Courthouse Records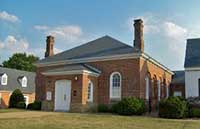 Richmond County, VA Courthouse
The Richmond County Courthouse is located in Warsaw, Virginia. At that time Richmond County's seat was simply named Richmond County Courthouse. It was located along the shore of the Rappahannock River. In 1730, it was moved inland to the intersection of the major crossroads of the Northern Neck. In 1748, the present Palladian style Courthouse was built by Carter on the site of the 1730 structure. It is a rectangular building with four bay arcades on the longer sides. There two additional blind arches on each of these to look as if there are six bays. In 1877 the arches were closed in and an added entrance opened on the north ends. In 1831, the name of the town was changed to Warsaw in sympathy with the Polish struggle for independence.
The Clerk's Office DOES NOT DO RESEARCH . Most staff will assist people in finding the materials, but it is up to the individual to do the research.
The Richmond County record dates below are from the earliest date to present time. They may include records of land, estates, taxes, vital records, divorces, naturalizations, voter registration, military discharges and court records.
Some record books were damaged and mutilated due to unknown causes; additionally, the will books prior to 1699 were missing as early as 1793, and order books for the period 1794-1816 are also missing.
Richmond County, Virginia Census Records
Richmond County, Virginia Vital Records
Richmond County, Virginia Resources
Richmond County, Virginia External Links