Arlington County, Virginia Records
Arlington County, Virginia (Map It) was created in 1789 as Alexandria County and was formed from a part of Fairfax County. Alexandria County was ceded to the U.S. government in 1789 but was returned to Virginia in 1846. It was renamed to Arlington Co in 1920. Arlington county was named for Henry Bennet, 1st Earl of Arlington, colonial proprietary landowner.
Arlington County is bordered by Fairfax County (west), Washigton D.C. (north), Prince George's County, Maryland (east).
Arlington County Cities and Towns include Ballston, Clarendon, Courthouse, Crystal City, Lyon Village, Pentagon City, Rosslyn, Shirlington, Virginia Square, Westover, Williamsburg Circle, Palisades .
MapGeeks.org has is a collection of old Virginia maps.
Arlington County, Virginia Courthouse Records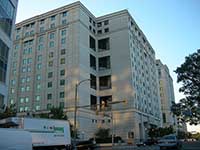 Arlington County, VA Courthouse
The Arlington County Courthouse is located in Arlington, Virginia.
The Clerk's Office DOES NOT DO RESEARCH . Most staff will assist people in finding the materials, but it is up to the individual to do the research.
The Arlington County record dates below are from the earliest date to present time. They may include records of land, estates, taxes, vital records, divorces, naturalizations, voter registration, military discharges and court records.
Pre-1920 records belong to Alexandria and Fairfax Counties and the District of Columbia.
Arlington County, Virginia Census Records
Arlington County, Virginia Vital Records
Arlington County, Virginia Resources
Central Library , 1015 N. Quincy St. , Arlington, VA 22201 , Phone 703-228-5990
Aurora Hills Library , 735 S. 18th St. , Arlington, VA 22202 , Phone 703-228-5715
Cherrydale Library , 2190 N. Military Rd. , Arlington VA 22207 , Phone 703-228-6330
Columbia Pike Library , 816 S. Walter Reed Dr. , Arlington, VA 22204 , Phone 703-228-5710
Government Reference Library , #1 Courthouse Plaza , Suite 406 , 2100 Clarendon Blvd. , Arlington, VA 22201 , Phone 703-228-3352
Outreach Centers , Phone 703-228-5585
Shirlington Library , 2786 S. Arlington Mill Dr. , Arlington, VA 22206 , Phone 703-228-6545
Westover Library , 1800 N. Lexington St. , Arlington, VA 22205 , Phone 703-228-5260
Arlington County, Virginia External Links