Pima County, Arizona Records
Pima County, Arizona (Map It) was created on December 15, 1864 and was one of the original 4 counties. Pima county was named after the Pima Native American people, called in their own language (river people).
Pima County is bordered by Yuma County (west), Maricopa County (north), Pinal County (north), Graham County (northeast), Cochise County (east), Santa Cruz County (southeast), Altar, Sonora, Mexico (south), Caborca, Sonora, Mexico (south), Plutarco Elías Calles, Sonora, Mexico (south), Sáric, Sonora, Mexico (south).
Pima County Cities and Towns include South Tucson, Tucson, Marana, Oro Valley, Sahuarita. Unincorporated Communities located in the county include Arivaca, Kentucky Camp, Lukeville, Redington, Rillito, Sasabe, Summerhaven, Why. Indian Reservation include Pascua Yaqui, San Xavier, Tohono O'odham (part)
A Map of Pima County, Arizona contains detailed information about roads and boundaries, these maps may include rural communities, churches, and cemeteries. There is a collection of old Arizona maps at MapGeeks.org
Pima County, Arizona Courthouse Records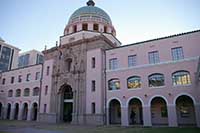 Pima County, AZ Courthouse
The Pima County Courthouse is located in Tucson, Arizona. Tucson served as the Territorial Capital 1867-1877, including all of Gadsden Purchase of 1854 in Arizona. The Clerk's Office DOES NOT DO RESEARCH. Most staff will assist people in finding the materials, but it is up to the individual to do the research.
The following dates indicates what vital, land, probate, and court records are in Pima county. The date listed for each record is usually the earliest registration filed. The date does not indicate that there are alot records for that year and does not mean that all such events were actually filed with the clerk.
Pima County Clerk of Superior Court has Marriage and Divorce Records from 1872, has Probate Records from 1864 and has Court Records from 1864. The Clerk's office is responsible for all Superior Court action in Adoptions, Civil, Criminal, Probate, and Tax matters.
Pima County Recorder has Land Records from 1866. The County Recorder's Office creates public records, maintain said records to archival standards, and provide convenient access to these records for public viewing.
Pima County Treasurer collects all real and personal property taxes for the state, county and incorporated cities and towns, school districts, and then distributes them to the various jurisdictions.
Pima County, Arizona Census Records
Pima County, Arizona Vital Records
Pima County, Arizona Resources
Pima County, Arizona External Links