Marin County, California Records
Marin County, California (Map It) was created on February 18, 1850 as one of the original 27 counties . Marin County was named for either that the county was named for Chief Marin, of the Licatiut tribe of Indians who inhabited that section and waged fierce battle against the early Spanish military explorers. The other version is that the bay between San Pedro and San Quentin points was named Bahia de Nuestra Senora del Rosario la Marinera by Ayala in 1775, and it is quite possible that Marin is simply an abbreviation of this name.
Marin County is bordered by San Francisco County (south), Contra Costa County (east), Sonoma County (north) .
Marin County Cities and Towns include Belvedere, Corte Madera, Fairfax, Larkspur, Mill Valley, Novato, Ross, San Anselmo, San Rafael, Sausalito, Tiburon ..
There is a collection of old California maps at MapGeeks.org
Marin County, California Courthouse Records
Marin County, CA Courthouse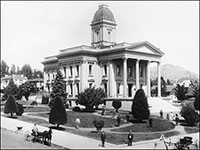 Old Marin County Courthouse
The Marin County Courthouse is located in San Rafael, California. Learn More About State of California Court, Tax, Land and Probate Records.
Courthouse History - Marin's first civic center was a converted group of adobe buildings situated in downtown San Rafael. A bond issue for a new courthouse was finally passed in 1872, and construction was begun. The new, Neoclassical courthouse accommodated all of the county offices for nearly a century. By the 1950s, the growth of the county, spurred since 1937 by the construction of the Golden Gate Bridge, required the construction of a new complex. The county retained Frank Lloyd Wright to design the Marin County Civic Center, the famed architect's last project.
The Clerk's Office DOES NOT DO RESEARCH. Most staff will assist people in finding the materials, but it is up to the individual to do the research. Some early court records from the various courts may have been sent to the California State Archives. Besides court minutes and judgements, these records include tax lists, wills, deeds, estate inventories, and marriage bonds. The California State Archives has microfilm of selected county records, 1850–1919.
The following dates indicates what vital, land, probate, and court records are in Marin county. The date listed for each record is usually the earliest registration filed. The date does not indicate that there are alot records for that year and does not mean that all such events were actually filed with the clerk. Some counties encompass land settled in the eighteenth century; their records pre-date county formation. Land transactions and vital records recorded in the county are at the county recorder's office. The county clerk general has probate books and files from the county's superior court, civil court records, and naturalizations. Divorces may be in either place, depending on how filed.
Marin County, California Census Records
Marin County, California Vital Records
Marin County, California Resources
Marin County, California External Links