Texas name derives from the Caddo word thecas, meaning "allies" or "friends." (The Spanish spelled the word tejas or texas and used it to describe the area where this Native American tribe lived.) . Texas's state nickname is " The Lone Star State ". The State Motto is " Friendship ".
In 1845, Texas entered the Union as the 28th state. It is located in the south-central part of the United States and is second in area only to Alaska. It is approximately 1,000 miles from the northern border of Texas to the southern border. It is also around the same distance from the western to the eastern borders. The state's capital is Austin.
Many of the borders of the state of Texas are based on bodies of water. For example, about two thirds of the northern border between Texas and Oklahoma is formed by the Red River. The Texas Panhandle makes up the rest of that border. Most of the state's eastern border with Louisiana is formed by the Sabine River, while the Gulf of Mexico borders the state in the southeast. Mexico and Texas are separated by a famous river, the Rio Grande.
The history and culture of Texas are extremely diverse. The same goes for the state's economy, and even its topography. It spent over 100 years as property of the Spanish Empire before falling under Mexican control between 1821 and 1836. After that, it became an independent republic and, eventually, a U.S. state. It gained a reputation for being a frontier area with gunfights, cowboys, and outlaws. Although many residents still value that heritage, the state of Texas is now known more as an area of finance and industry. It is famous for natural gas, oil, and agriculture. It even features several urban hubs, which stand in stark contrast to its frontier history. Although, it still has plenty of open land used for growing cotton and raising cattle.
The Spanish settlement of Isleta, which is located close to present-day El Paso, was founded in 1682. At that time, there were several Native American tribes inhabiting the region. From 1685 to 1700, Goliad, San Antonia, and Nacogdoches became home to Spanish military outposts known as presidios, as well as Franciscan missions. In 1718, when the area was under the jurisdiction of the Spaniards, San Antonio, which already had a mission and a military post, became the region's administrative headquarters. In 1727, Texas was established as a province. At that time, its boundaries were not clearly defined. The population consisted of priests, soldiers, and several colonist groups. Many of those settlers were located near San Antonio. Both Mexico and Spain organized early municipalities in the area. In fact, 29 political subdivisions were created in the area from 1731 to 1836. Although, some of them were only located partially within the Texas border.
In 1803, the Louisiana Purchase took place. The result was a major boundary dispute with Spain regarding the border between Texas and Louisiana. The United States claimed that its territory extended to the Sabine River in the west, while Spain claimed that its territory ran all the way to the east, where the Red River was located. In 1806, a neutral region was formed, creating a temporary settlement to the agreement, but that neutral region soon became home to many outlaws and troublemakers because there was no government jurisdiction of any kind in the area. The region also became home to several Native American tribes from 1809 onward. Those tribes included the Oto, Osage, and Quapaw.
Many Catholics residing in Louisiana wound up moving to Texas when Spain loosened its immigration laws in the region. In 1819, the boundary of Louisiana was accepted as being the bank of the Sabine River. Nevertheless, border disputes still went on in the area. Then, in 1820, Miller County was organized in Arkansas Territory, but part of it was located within the border of Texas.
In 1821, Mexico became independent from Spain. At that time, Mexico included the area that is known as Texas today. Certain grantees were allowed to enter the area, regardless of faith. Although, the Mexican government did their best to only encourage Roman Catholics to enter the region.
As a grantee, or impresario, certain people were allowed to settle in Mexico in the region that is now Texas. One of those grantees was Stephen F. Austin, who inherited a land grant from his father. Stephen F. Austin was the first American impresario in the region. He established a colony there, which included many of the first Anglo-Americans to ever settle in what is now known as Texas. Around that time, boundaries were still unclear. So, colonists soon spread across the region all the way from the old San Antonio road to the coast. The old San Antonio road connected the rivers of San Jacinto and Lavaca. Soon, other colonists came to the area as well.
Up until 1832, the Mexican government was still issuing contracts for settlement in the area. In fact, several settlers from Arkansas and Tennessee came to the area in the 1820s. Soon, settlers were coming from many other regions as well, including Kentucky, Pennsylvania, and Ohio. In 1825, a municipality called Refugio was formed. Two years later, Austin was established. The year after that, Golidad was founded. Then, in 1831, both Liberty and Nacogdoches were formed as well. Land title situations were difficult at times due to unclear boundaries and duplicate land grants. In the 1830s, things were further complicated when both Mexico and Spain formed more municipalities in the region. Comparing the names of those later municipalities to the earlier names shows how many Americans came to that area during those years.
Some immigrants to Texas came by boat from New Orleans. The boats came in at the ports of Indianola and Galveston in Texas. Other immigrants came over land from Mississippi, Alabama, Texas, Georgia, and South Carolina.
On march 2, 1836, the Republic of Texas was founded. That was four days prior to the victory at San Jacinto, which ended major military conflicts in the area. The most famous of those conflicts was the Battle of the Alamo, when Mexican troops led by General Antonio Lopez de Santa Anna attacked that now famous location.
Many Americans were living in the Texas area in 1836, and they were pushing for the area to gain its statehood. Beginning in 1841, the Republic of Texas started to give out colonization contracts, trying to get more residents to live in the area and increase the possibility of statehood becoming a reality. Then, in 1845, residents finally got their wish when Texas became the 28th state in the union.
Unfortunately, Mexicans were not happy when Texas became a U.S. state. That led to the Mexican War, which lasted from 1846 to 1848. It was fought in what is now Texas. Both countries were claiming Texas as their own. Both countries were also claiming other land, including what is now California. Mexico wanted to retain rights to all of that land, but the United States won the conflict.
The federal government put several policies and fortifications into place to keep Native Americans from attacking settlers in Texas. Nevertheless, during the first few decades that Texas was a state, there were several skirmishes between Native Americans and the settlers in the state.
More than 30,000 German immigrants settled in what is now Texas before 1850. During the Revolution, Texas seceded from the Union, even though both those German settlers and the Governor, Sam Houston, objected. Many men from Texas joined the Confederate army after that. However, in 1866, Texas became part of the Union again.
The state of Texas experienced major economic growth, thanks in large part to livestock, as well as wheat and cotton growth. The oil industry was also thriving early on in Texas, and continues to thrive today. The area offered so much economic stability and so many opportunities that immigrants came from Norway, Ireland, Sweden, Poland, and other European countries to settle in Texas. In addition, the Post Cereal Company gave out cheap land in the western part of the state during the Great Depression. Those who accepted only needed to agree to grow grain to be used for items produced by the company. People from Mexico also came to the area, and continue to come to it, in order to get industrial or farming jobs.
Texas Ethnic Group Research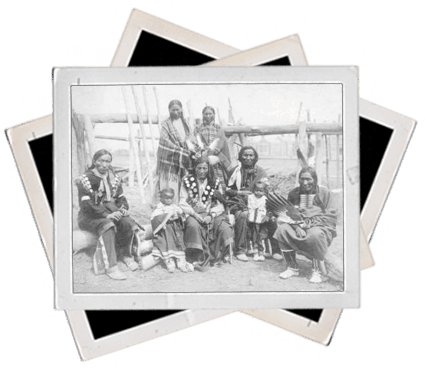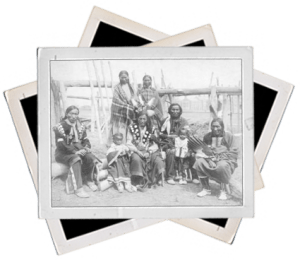 Native Americans – Several Native American tribes have lived in Texas throughout its history. Those tribes include the Comanche, Kiowa, Arapaho, Crow, Wichita, Ute, Creek, Arkokosa, Attacapa, Caddo, Coahuiltecan, Karankawa, Nacogdoches, Nasoni, Neche, Tonkawa.
In 1859, most Native Americans who still resided in Texas were forced to move to Indian Territory. However, some Comanche tribe members fought to stay in Texas, eventually surrendered in 1875. The state is still home to the Alabama-Coushatta Indian Reservation. The United States Bureau of Indian Affairs holds records for Texas Native Americans from 1845 onward. Copies of those records can be found at the National Archives. The Oklahoma Historical Society, Indian Archives Division, Historical Bldg., Oklahoma City, OK 73105 holds a large collection of documents relating to Native Americans in Texas.
On February 19, 1846, President Anson Jones surrendered control of the Republic of Texas to the United States, and Texas became a state. Documents relating to the original Republic of Texas settlers are still extant today and documents from "Austin's Old Three Hundred" are particularly useful.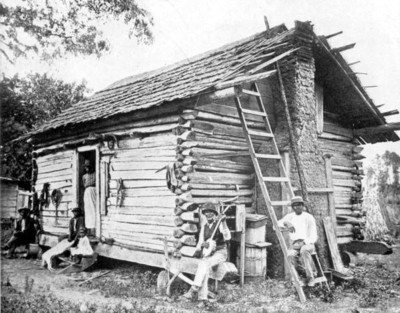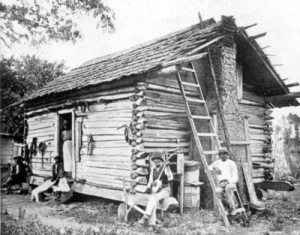 African Americans – African Americans have been present in Texas for a long time. Although, most Texas records don't give much information about them. However, the 1809 Nacogdoches census does list 33 slave owners. In the 1820s, slavery in the state increased. Then, when the area was under the jurisdiction of Mexico, anti-slavery sentiments increased. In 1824, a slave code was started in the Austin colony. When slaves had babies after the 1827 constitution of Coahuila and Texas was passed, those babies were considered free people as soon as they were born. Bondsmen's contracts were limited to 10 years in 1832. However, slave owners often ignored both of those laws. Slavery was legalized in Texas in 1837.
Antebellum Texas was settled primarily by people from southern states. Many of them brought slaves with them to the area. Nevertheless, in the 1850s only about 33% of Texans owned slaves. Most of the African Americans who lived in the state at that time, whether they were free or enslaved, lived in the eastern part of the state.
Slave owners' records can be helpful in tracing enslaved ancestors who lived before 1865. Estate inventories and wills are particularly useful, since slaves were often listed with property. Slave names, ages, and descriptions may be listed. Family information may also be included. Slave information may also be found on bills of sale and deeds, in cases where slaves were transferred from one owner to another. Some slaves and their owners may also be listed in certain court records. African American records from 1865 onward are filed at the state and local level with all other records from the time period, rather than in separate African American files.
Mexican Americans – In the early days of Texas, there were two major colonies established by Spain. They were the Tejas colony (founded in 1690) and the Nuevo Santander colony. The former was established near the Nueces River, while the latter was established in the Rio Grande Valley. From 1749 to 1755, 24 smaller Spanish settlements were established.
The population of Tejas was under 5,000 in the early 1800s. However, the population of Nuevo Santander had ballooned to 15,000 by 1835. After Texas gained its statehood, Latinos living in the state often were treated unfairly by the courts. They also faced problems regarding language, customs, religion, and property rights. As of 1850, about 5% of the Texas population was Latino.
Around 3,000 Tejanos joined the Confederate Army during the Civil War. However, many of those who joined later became deserters. Some Tejanos also became Union soldiers. In 1868 bounty-land grants were given to those who served on the Union side. Soldiers who served for 6 months received 8 acres. Soldiers who served for at least one year received 320 acres. The Reconstruction process led to a lot of Latinos who served on the Union side becoming citizens of the United States.
The 1920s was a time when many people migrated to Texas from Mexico and other areas in the southwest. There were 1,448,900 Latinos living in Texas in 1960. Most of them lived in the counties of El Paso, Bexar, and Hidalgo. Many of them have moved to urban areas in the last several years.
Further Reading
Indian Wars and Pioneers of Texas. 1978. Reprint. Easley, S.C.: Southern Historical Press, 1988.
Early Settlers and Indian Fighters of Southwest Texas: Facts Gathered from Survivors of Frontier Days. New York: Argosy, ca. 1964.
Indian Depredations in Texas. Austin, Tex.: Eakin Press, 1985.
Biographical Directory of the Texas Conventions and Congresses, 1832–1845. 1941. Reprint. New York: Antiquarian Press, 1959.
Compiled Index to Elected and Appointed Officials of the Republic of Texas: 1835–1846. Austin, Tex.: State Archives Division, Texas State Library, 1981.
Founders and Patriots of the Republic of Texas, the Lineages of the Members of the Daughters of the Republic of Texas. 3 vols. Dallas: Huggins Press, 1963– 85.
Nacogdoches: Gateway to Texas, a Biographical Directory, 1773–1849. 2 vols. Ft. Worth, Tex.: Arrow/Curtis Printing, 1974–87.
The Signers of the Texas Declaration of Independence. Salado, Tex.: Anson Jones Press, 1959.
Citizens of the Republic of Texas. Dallas: Texas State Genealogical Society, 1977.
Sons of the Republic of Texas Lineages of Members. Microfilm, 37 reels.
Black Texans: A History of Negroes in Texas, 1528– 1921. Austin, Tex.: Pemberton Press, 1971.
"Slavery in Early Texas," Political Science Quarterly 13 (1898): 389-412, 648-88.
An Empire for Slavery: The Peculiar Institution in Texas, 1821–1865. Baton Rouge, La.: Louisiana State University Press, 1989.
Racial Borders: Black Soldiers along the Rio Grande. College Station: Texas A&M University Press, 2002.
The Negro in Texas, 1874–1900. Baton Rouge, La.: Louisiana State University Press, 1971.
Time of Hope, Time of Despair: Black Texans During Reconstruction. Port Washington, N.Y.: Kennikat Press, 1981.
The Free Negro in Texas, 1800–1860: A Study in Cultural Compromise. Published for The Journal of
Mexican American History. Ann Arbor, Mich.: University Microfilms International, 1976.
"Land Speculation as a Cause of the Texas Revolution," Texas Historical Association Quarterly (1906): 76-95.
Race and Class in the Southwest: A Theory of Racial Inequality. Notre Dame, Ind.: University of Notre Dame Press, 1979.
A Statistical Profile of the Spanish-Surname Population of Texas. Austin, Tex.: University of Texas, Bureau of Business Research, 1964.
"Mexican Migration." Paper presented at Conference on Demographic Study of the Mexican American Population. Austin, Tex.: University of Texas, 17–19 May 1973.
The Mexican Population of Austin, Texas. San Francisco: R & E Research Association, 1971. Reprint of a thesis, University of Texas, 1925.
"The Mexican Immigrant in Texas," Southwestern Political and Social Science Quarterly (June 1926): 33-41.
The Social and Economic Effects of the Mexican Migration into Texas. San Francisco: R & E Research Association, 1971. Reprint of a thesis, 1929.
Latin Americans in Texas. Albuquerque: University of New Mexico Press, 1946.
Guide to the Microfilm Edition of the Bexar Archives, 1717–1803. Austin, Tex.: University of Texas Archives Microfilm Division, 1967.
Mexican Migratory Workers of Southern Texas. Washington, D.C.: Government Printing Office, 1941.
A Documentary History of the Mexican Americans. New York: Praeger Publishers, 1971.
After San Jacinto: The Texas-Mexican Frontier, 1936–1841. Austin, Tex.: University of Texas Press, 1963.
The Franciscan Missions in Texas, 1690– 1793. Washington, D.C.: Catholic University of America, 1927.
Texas and Our Spanish Southwest. Dallas: Banks Upshaw, 1960.
Mexicano Resistance in the Southwest: "The Sacred Right of Self-Preservation." Austin, Tex.: University of Texas Press, 1981.
Vaqueros in Blue and Gray. Austin, Tex.: Presidial Press, 1976.
The Mexican Frontier, 1821–1846: The American Southwest Under Mexico. Albuquerque: University of New Mexico Press, 1982.
Texas History Databases and other Helpful Links
The websites below will provide state-specific details to those in search of information for Texas genealogy work.